Genie Well Service, Inc.
We provide services to oil and gas wells that includes servicing, workovers, completions, and plugging & abandonments.
Professional crews, quality equipment, and time efficient schedules are all part of our services to you.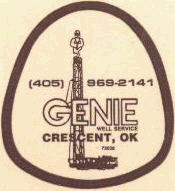 Genie Well Service provides....
Well servicing companies, like Genie Well Service, provide services to the oil and gas producing companies throughout the US and the world, both on land and onshore. Genie Well Service is a land based service company which provides mobile rigs and personnel to go upon oil and gas producersí well sites to perform repairs and other services.
According to the AESC, there are 3,800 well service rigs in the US, located in 29 states. Most of the rigs are located in the states of Oklahoma, Texas, New Mexico and Kansas. There are also rigs in states which are not normally considered oil producing states, such as West Virginia, Pennsylvania, New York and Florida. The well servicing industry employs in excess of 70,000 people.
Genie Well Service is proud to be part of this growing service in the oil and gas industry.